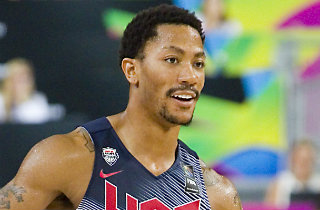 A Los Angeles County jury returned a verdict on Wednesday afternoon, finding NBA superstar Derrick Rose not liable for all civil claims brought against him and two friends by a woman who claimed she was gang raped.
TMZ reports  Rose and the two friends were all found not liable on all claims of trespassing, sexual battery and battery.
As each count was read in court, Rose's legal team reportedly smiled and shook hands with Derrick and his co-defendants.
The accuser reportedly appeared somber and had her head down upon hearing the verdict.
Rose acknowledged to having sex with the woman, but maintained it was consensual.  The accuser claimed she was either drugged or drunk, and in capable of giving consent.
Stick with LawNewz.com for additional information in this breaking story .
Have a tip we should know? [email protected]