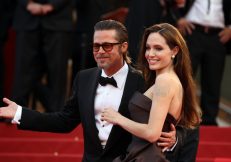 Although they're used to the limelight and their relationship playing out in front of the world, Brad Pitt and Angelina Jolie have recently come to an agreement to keep their divorce private moving forward.  The decision was apparently made for the sake of their children. Through his attorneys, Pitt had previously requested that the divorce documents remain sealed, to Jolie's protest.  It seems she has since relented on the issue.
Their recent pivot comes after releasing a joint statement, obtained by CNN, stating that:
The parties and their counsel have signed agreements to preserve the privacy rights of their children and family by keeping all court documents confidential and engaging a private judge to make any necessary legal decisions and to facilitate the expeditious resolution of any remaining issues. The parents are committed to act as a united front to effectuate recovery and reunification.
The once loving couple have grown quite publicly acrimonious since the announcement of their split in September. The two have been hurling insults at each other amidst the custody battle over their six children, with Jolie requesting sole physical custody and Pitt petitioning for joint custody. Brad going so far as to say that Jolie "apparently has no self-regulating mechanism to preclude sensitive information from being placed in the public record, or she has other motives."
It now seems that the two have come to an agreement due to their children, believing that the very public break-up may be negatively affecting them.
LawNewz.com spoke with divorce expert Nicole Noonan, who noted that "Private judges are becoming more common place in high profile divorces." Noonan further explained how the process would unfold: "Here a private judge (typically a retired judge, but sometimes a highly respected and seasoned attorney) will be selected by parties' counsel. The private judge will be able to preside not just in a courthouse but wherever the parties wish to meet. Therefore, eliminating reporters standing in the courthouse waiting for leaks. Also, they can have a decision in days rather than months."
As of now, the two are in an informal arrangement with Jolie maintaining physical custody of their children and Pitt permitted supervised visits.
[image via shutterstock]
Have a tip we should know? [email protected]