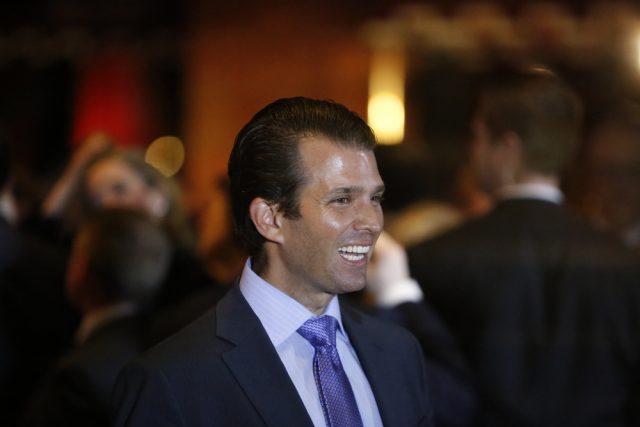 You've heard the word bombshell tossed around throughout the news surrounding the Russia probe, but a new report in the Associated Press is certain to raise even more eyebrows. Reporters from the outlet tracked down Rinat Akmestshin, a Russian American lobbyist who reportedly once was a Russian spy (he denies it). He confirmed his participation in the June 2016 meeting with Donald Trump, Jr., Jared Kushner, Paul Manafort and Russian lawyer Natalia Veselnitskaya. But, here's the shocking part. Despite Trump Jr. claiming she provided no supporting information, the lobbyist told them that the Russian attorney actually did bring with her a plastic folder with "printed-out" documents detailing illicit funds allegedly being funneled to the DNC.
Here's the bombshell that was actually buried pretty far down in the AP article:
During the meeting, Akhmetshin said Veselnitskaya brought with her a plastic folder with printed-out documents that detailed what she believed was the flow of illicit funds to the Democratic National Committee. Veselnitskaya presented the contents of the documents to the Trump associates and suggested that making the information public could help the Trump campaign, he said.

…

Akhmetshin said he does not know if Veselnitskaya's documents were provided by the Russian government. He said he thinks she left the materials with the Trump associates. It was unclear if she handed the documents to anyone in the room or simply left them behind, he said.
Earlier this week, Donald Trump Jr. said he never received anything of substance from the Russian lawyer. He claims she provided no "supporting information" about the claims.
Akmestshin told the AP that during the meeting Trump Jr. did ask her if she had all of the evidence to back up her claims, and Veselnitskaya said the Trump campaign would need to research it more.
—> LAWNEWZ PREDICTS: TRUMP FIRES SPECIAL COUNSEL MUELLER WITHIN 100 DAYS <—-
Here's the statement that Trump Jr. issued earlier this week (before the latest information came out):
"No details or supporting information was provided or even offered. It quickly became clear that she had no meaningful information. She then changed subjects and began discussing the adoption of Russian children and mentioned the Magnitsky Act. It became clear to me that this was the true agenda all along and that the claims of potentially helpful information were a pretext for the meeting,"
He has not yet responded to these most recent claims.
As we reported earlier this week, the law makes it a crime for a campaign to solicit a foreign national for "anything of value … in connection with" an election.
"When the Federal Election Commission (FEC) promulgated this ban on 'substantial assistance, it said little about its scope.  It did make clear that the term was to be broadly construed," wrote Bob Bauer, a professor at NYU in a recent blog post.
So, would this count as providing substantial assistance or "anything of value"?
"If it's accurate, it obviously adds considerably to the already strong case that Don Jr., Jared Kushner, and Paul Manafort violated a number of federal criminal prohibitions through soliciting illegal foreign assistance to a U.S. presidential campaign (and, in Jared's case, through falsely and incompletely filling in SF86 in obtaining security clearance) and, again on the premise that this report is accurate, this information shows that they not only solicited but indeed received such assistance," Harvard Law Professor Laurence Tribe told LawNewz.com "It's already beyond dispute that much of what Don Jr. has said about the June 2016 meeting with Natalia Veselnitskaya and Rinat Akhmetshin (and perhaps others in addition to Jared and Paul) was plainly false, but this added layer of obviously deliberate deception makes the case for treacherous collusion with a hostile foreign power to help Trump defeat Clinton and to subvert our democracy all the stronger."
Election law expert Rick Hasen told us earlier that this situation doesn't bode well for the first son saying it "considerably strengthens the solicitation/coordination claims." It would also of course depend on what exactly was in the documents.
This report has been updated with legal analysis and more details.
[Screengrab via Shutterstock]
Have a tip we should know? [email protected]
Rachel Stockman - President / On Air Host