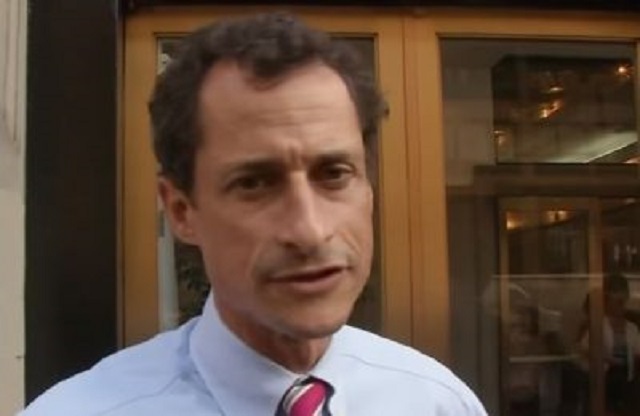 Former Congressman Anthony Weiner plans to pleaded guilty in federal court on Friday, ending a case centered on allegations that he exchanged sexually explicit messages with a girl he knew was 15 years old between January and March of 2016, sources told The New York Times. Weiner pleaded to one count of transferring obscene material to a minor, as part of an agreement with the U.S. Attorney's Office. Weiner used social media to send
Weiner was released on bail until his sentencing, which will take place at a hearing on September 8, according to a statement obtained by ABC News.
JUST IN: Anthony Weiner pleads guilty to transferring obscene material to minor; released on bail pending sentencing https://t.co/KrNCtBIFFX pic.twitter.com/iFgI0ppPOK

— ABC News (@ABC) May 19, 2017
The length of Weiner's sentence will ultimately be decided by a judge, but prosecutors are recommending between 21 and 27 months in prison. He will also have to register as a sex offender.
"I have a sickness, but I do not have an excuse," Weiner said in court, according to the New York Daily News. "I apologize to everyone I have hurt. I apologize to the teenage girl, whom I mistreated so badly."
Joon H. Kim, Acting U.S. Attorney for the Southern District of New York, said in a statement, "Weiner's conduct was not only reprehensible, but a federal crime, one for which he is now convicted and will be sentenced. We thank the FBI and the NYPD for their work in this investigation."
The scandal rocked the American political landscape, when a federal investigation of Weiner's computer allegedly revealed emails forwarded by his wife, Huma Abedin, who was working for Hillary Clinton. Some of those emails were said to be potentially classified, which led to then-FBI Director James Comey announcing that he was reopening an investigation of Clinton's private email server days before the presidential election. Clinton has publicly stated that the announcement contributed to her losing the election.
This article has been updated with details of the sentence prosecutors are recommending, as well as Weiner's statement in court.
Have a tip we should know? [email protected]