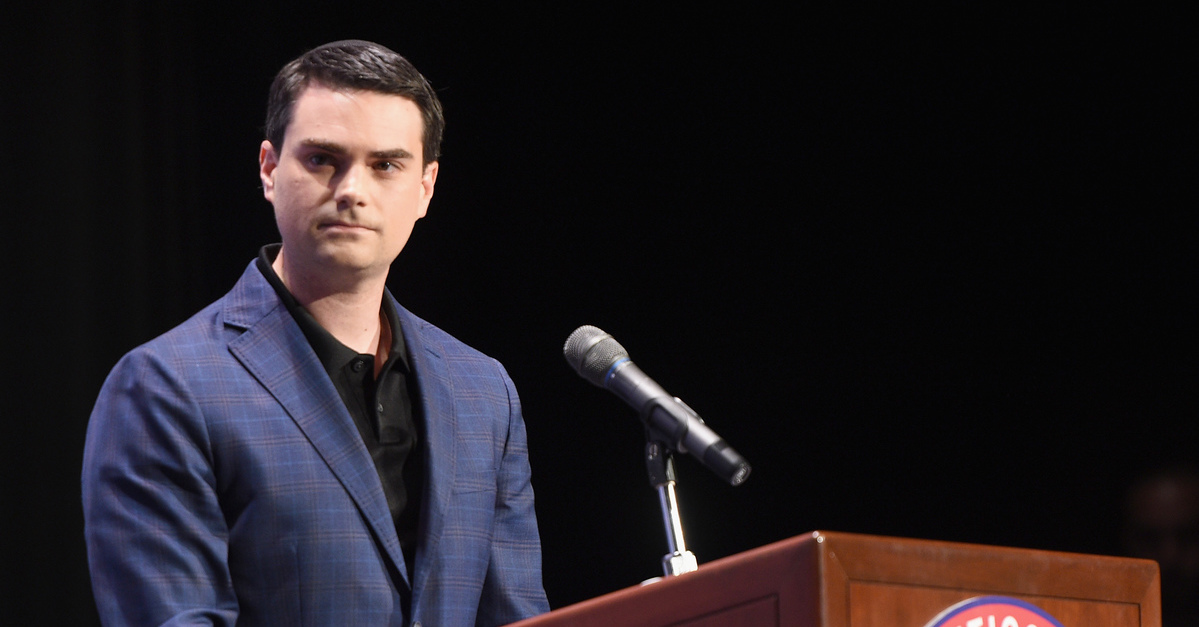 Here come the free market sponsor boycotts.
As of Saturday, at least two advertisers have pulled the plug on conservative commentator Ben Shapiro's eponymous podcast over the host's controversial speech at the annual anti-abortion March for Life rally in Washington, D.C. on Friday.
"[T]he truth is that no pro-life person on earth would kill baby Hitler," Shapiro said before adding, "Baby Hitler was a baby."
On Twitter, relaxation and meditation app Calm responded to customer outrage about Shapiro's "baby Hitler" speech in a late Friday night tweet announcing, "We do not align with this message. We're pulling our sponsorship."
We do not align with this message. We're pulling our sponsorship.

— Calm (@calm) January 19, 2019
An earlier tweet sent by the company noted that the company was investigating the incident in light of multiple user complaints and a social media call-out campaign.
"This was brought to our attention earlier today," the company's official Twitter account said. "We do not align with this message. Please know that we're looking into this."
Calm is the second company to pull their advertising dollars after Shapiro's speech.
Earlier on Friday, subscription toothbrush service Quip decided to go another direction with their outreach due to the widely panned remarks.
"Our mission is to make good oral health more accessible to everyone, and podcast advertising is one way we're able to realize this," a statement released by the company said.
"However, following one of our ads being read in a venue we did not endorse, we have chosen to discontinue our advertising relationship with this show. We are also taking steps to ensure all of our advertising partners are aligned with our oral health mission and values."
Shapiro's comments immediately drew scorn and ridicule online after first being reported by MoveOn's Jordan Uhl.
Ben Shapiro at March for Life: "The truth is no pro-life person would kill baby Hitler. Baby Hitler was a baby." pic.twitter.com/PPgQcbWSrq

— jordan (@JordanUhl) January 18, 2019
"The argument, I guess here, is that would you kill baby Hitler?" the Harvard Law-educated founder of The Daily Wire said. "And the truth is that no pro-life person on earth would kill baby Hitler, because baby Hitler wasn't Hitler, adult Hitler was Hitler. Baby Hitler was a baby. What you presumably want to do with baby Hitler is take baby Hitler out of baby Hitler's house and move baby Hitler into a better house where he would not grow up to be Hitler, right? That's the idea."
One of the most widely shared tweets criticizing Shapiro's comments pointed out that the conservative commentator had previously expressed his ambivalence about civilians killed by U.S. and Israeli forces in the Middle East.
In a 2002 TownHall article titled "Enemy 'civilian casualties' ok by me," Shapiro wrote:
I am getting really sick of people who whine about "civilian casualties." Maybe I'm a hard-hearted guy, but when I see in the newspapers that civilians in Afghanistan or the West Bank were killed by American or Israeli troops, I don't really care. In fact, I would rather that the good guys use the Air Force to kill the bad guys, even if that means some civilians get killed along the way. One American soldier is worth far more than an Afghan civilian.
The Washington Times notes that Shapiro made similar comments during a 2015 taping of his podcast–absent this go-round's widespread outrage and answered calls to boycott.
Law&Crime reached out to Shapiro for comment on this story but no response was forthcoming at the time of publication.
[image via Joshua Blanchard/Getty Images for Politicon]
Have a tip we should know? [email protected]