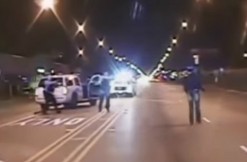 On Thursday, a spokesman for the Chicago Police Department announced that seven officers may get fired over an alleged cover up regarding the death of teenager Laquan McDonald. At least, that's what CPD Superintendent Eddie Johnson wants. According to the press statement obtained by The New York Times, Johnson recommended their termination because they allegedly filed false reports.
Officer Jason Van Dyke shot and killed 17-year-old McDonald, who was black, in 2014. He and at least seven other officers gave their accounts, but that was contradicted by dashcam footage. That video, released in November, showed that although McDonald had a knife, he was moving away from police when Van Dyke shot him 16 times, even when he was on the ground. This exacerbated already lingering resentment between local police and people of color, especially African Americans.
WATCH, Via Fox 10 Phoenix:

Van Dyke now faces a first-degree murder charge, and pending trial. But surprisingly, he's not being recommended for termination. A report from Chicago's inspector general said he should get fired too, but as police spokesman Anthony Guglielmi put it, the CPD "respectfully disagrees" because they feel "there is insufficient evidence to prove those respective allegations."
The officers, who have not been named, technically still have their jobs for now. Johnson can't fire them on his word alone, though he already took their police status away. They'll still have the opportunity to challenge the recommendation to the local Police Board.
We've reached out to Chicago Fraternal Order of Police for comment, and we will update if they respond.
[Screengrab via Chicago Police Department]
–
Follow Alberto Luperon on Twitter (@Alberto Luperon)
Have a tip we should know? [email protected]