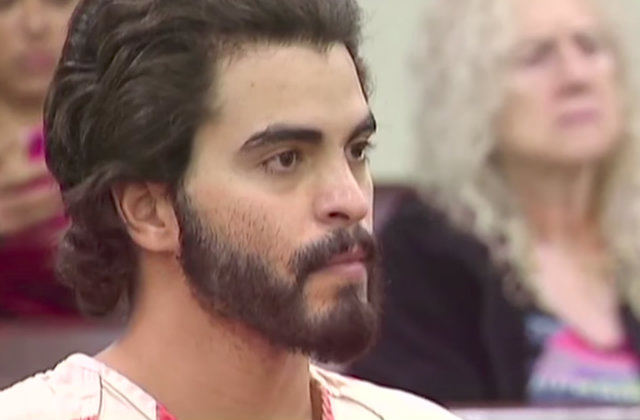 Jury selection began Monday in the quadruple-murder trial of Florida man Adam Matos. Prosecutors in Pasco County say he murdered his ex-girlfriend Megan Brown, her new boyfriend Nicholas Leonard, and her parents Margaret and Gregory Brown in 2014.
The LawNewz Network will provide live coverage of the case. Below is a primer on the allegations.
The state is expected to use eyewitness testimony and financial records to establish Matos' whereabouts and mindset before, during, and after the alleged murders.
An affidavit from the Pasco County Sheriff's Office revealed that the investigation started September 4, 2014. Margaret's stepmother hadn't reached her since August 28, so she reached out to authorities, who did a welfare check. At the scene, deputies discovered a spent bullet on the driveway, and the victims' decomposing bodies in a garage.
During the investigation, it turned out that Megan called deputies to the residence on August 28. She said he pushed her against a wall and held a knife against her throat. Brown's fear of her ex was a recurring theme in the affidavit. Megan's boss James Sigler, who said she didn't show up to work on August 29, told deputies she was afraid and believed the defendant was going to murder her. Another person, Brown's friend Tony Carlson, said the victim worried about going to work because she feared that Matos would make off with their 4-year-old son. Megan said Matos was acting crazy, and she had never seen him act like that, Carlson said. Brown worried he was going to kill her.
No one had heard from any of the four victims since August 28.
Witnesses placed the defendant at the residence around the time of the suspected murders. Neighbor Ryan McCann said he spoke with Matos everyday between the 28th and September 3 at the residence and McCann's home. He claimed that on August 29, between midnight and 1 a.m., he saw the defendant outside the homes, sweating and out of breath. Later, in a September 2nd conversation, they talked about the victims. The defendant claimed the victims had flown out to West Virginia.
Another neighbor, Sharon Mann, said she saw a man fitting his description spraying water in the garage and sweeping water outside a side door on September 3, 2014.
Several people told deputies they brought dogs from Matos on Craigslist at $50 per pet. Sale dates were August 29 and 31. Those animals actually belonged to Margaret and Gregory, who were breeders.
Margaret's debit card information showed that it was used to purchase a shovel from Walmart on August 29. A pizza delivery driver said they brought an order to the residence on September 1, where the defendant paid with a card (Margaret's). Another driver brought an order on September 2. This time Matos paid in cash, said the affidavit. This second person caught a bad smell from the location.
The 4-year-old's whereabouts weren't known at the time the investigation started, so this sparked an AMBER Alert. Authorities traced Matos to a Greyhound bus terminal in Tampa on September 5. There, they spoke to security guard Lamont Marshall, who told them the defendant asked about the "first bus out of here." Marshall gave him the scheduled time of departure, and directed Matos to a nearby hotel. That's where deputies discovered him with the son.
A grand jury later indicted the defendant on four counts of first-degree murder, believed to have occurred on or between August 28 and September 1, 2014. They said Matos shot Megan and Gregory, and beat Margaret and Nicholas to death . If convicted, he could get the death penalty.
Jury selection will continue Tuesday.
Stay with LawNewz.com and the LawNewz Network for continuing coverage of the trial.
Have a tip we should know? [email protected]