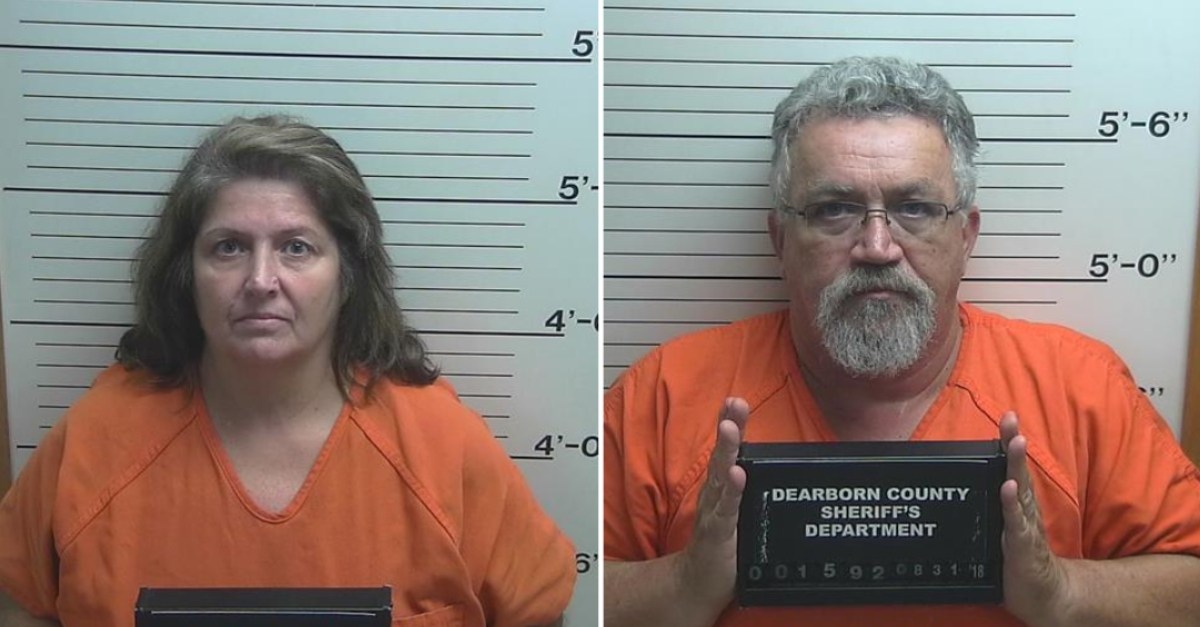 An Indiana couple was charged Thursday for abusing eight children, according to the Dearborn County prosecutor in a Fox 19 report. One victim allegedly had a soiled diaper put in his mouth. Timothy S. Combs, 59, and Diane C. Combs, 55, face a slew of abuse charges for this and other incidents.
The duo terrorized eight kids, according to county prosecutor Lynne Deddens. Four were from foster care, and one was adopted. The couple was babysitting the other three, authorities claim.
Investigators said they learned about this after one of the kids filmed the couple's abusive ways. This child then revealed the footage to an individual who contacted sheriff's deputies.
Deddens said two photos show a naked 6-year-old holding a soiled diaper in his mouth.
The footage showed this boy then approaching Diane Combs as she sat in a recliner, the prosecutor said. She touched his rear end, and slapped him so hard he falls to the ground crying. Combs then ordered him to come over. A slap could be heard in the video, and she chews him out.
'Don't touch my motherf—— leg," Diane Combs allegedly said. "I'm going to choke the s— out of you b——."
The couple has a prolific history as foster parents. 38 children have passed through their custody since 2014, Deddens said.
Court records obtained by Law&Crime show that the alleged incidents happened from December 7, 2016 to July 1, 2018. defendants made an initial appearance in court on Tuesday. Neither of them have attorneys of record. A no contact order was issued in the case.
The couple were booked into Dearborn County Jail on Friday.
Timothy Combs faces counts of aggravated battery, domestic battery, battery on a child resulting in serious bodily injury, and strangulation. His wife was booked for counts of aggravated battery, battery on a child resulting in serious bodily injury, domestic battery, battery by bodily waste, strangulation, and sexual battery.
[Dearborn County Jail]
Have a tip we should know? [email protected]