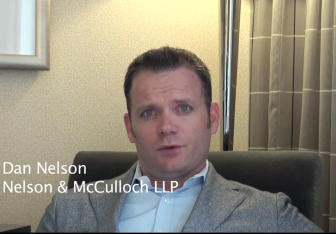 A Manhattan jury on Friday acquitted a lawyer of trying to rape a woman on a Murphy bed in the conference room of his Midtown law office — but they did find him guilty on the lesser charges of sexual abuse and obstruction of breathing for his actions on the night in question.
Defense attorney Tim Parlatore offered another interesting defense during closing arguments, telling the jury that the defendant, Dan Nelson, wasn't a nice guy but that doesn't mean he is guilty of crime.
"[Mr. Nelson] was a jerk that night," Parlatore said.  "But being a jerk isn't a crime."
According to The New York Post, jurors seemingly agreed with Parlatore on that — Nelson was definitely a jerk.
"He's not a nice guy, that's the first thing we agreed on," a female juror told The Post about Nelson.  "He is absolutely a douche."
Jurors also had a hard time believing Nelson's "Viagra Defense" that he offered earlier this week when he took the stand.
"I don't believe he suffers from erectile dysfunction as a medical condition but because he is a lush," a female juror told The Post in an interview after the verdict was announced.
Nelson declined to comment as he left the courthouse, however, his lawyer told the paper, "We are happy that the jury acquitted him of the top count and feel confident that the lesser counts will be overturned."
Nelson faces up to seven years in prison on the sexual abuse charges, according to The Post.  There is no word on when he is expected back in court for sentencing.
[h/t The New York Post; image screengrab via youtube]
Have a tip we should know? [email protected]