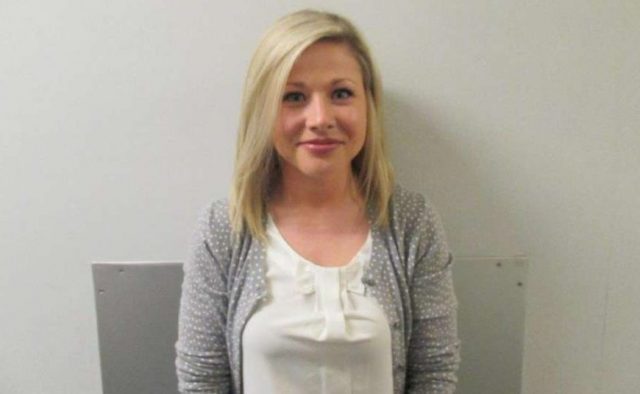 What's Sarah Madden Fowlkes smiling about? In the picture above, the married Texas high school science teacher had just been arrested on a felony charge for allegedly having sex with a student.  The teacher turned herself in on Monday, and by the looks of her mugshot, she didn't appear all too concerned about it.
According to the Lockhart Independent School District, the Lockhart High School's administration received a report earlier this month about an alleged "improper relationship," and they notified district officials and police. Officers investigated and found a 17-year-old student who they say admitted to having a sexual relationship with Fowlkes.
At the time Fowlkes posed for her mugshot, it is unclear if she was aware she was being suspended, or that the school district was reporting her to the State Board for Educator Certification. The district announced in a statement that they were taking these actions, and Superintendent Susan Bohn declared that "Fowlkes will not return to the school district."
"Student safety is the district's most important priority," Bohn said, adding, "The district does not and will not tolerate any improper communication or contact between a teacher and child."
Fowlkes was charged for an improper relationship between an educator and a student, a second-degree felony which carries a punishment of up to 20 years in prison.
[Image via Lockhart Police Department]
Have a tip we should know? [email protected]