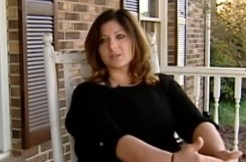 The 16-year-old South Carolina student who allegedly spread around nude pictures of his former high school teacher pleaded guilty to a computer crime. Deputy Solicitor John Anthony announced the boy copped to a second-degree computer crime, according to an Associated Press report.
The incident reportedly happened on Feb. 18. His then-teacher Leigh Anne Arthur told WYFF that she left her cellphone on her desk between classes. While she stepped away, the teenager allegedly looked through her phone, and using his own, photographed a nude picture of her that he found. He reportedly spread it via text message and social media.
Arthur resigned soon after, but soon sued the Union County School District and the interim superintendent because they allegedly hadn't followed due process and made incorrect allegations, according to WYFF.
Students started a petition asking for Arthur's reinstatement. Though it received over 17,000 signatures, they said it's "unlikely to happen."
[screengrab of Arthur via WYFF]
–
Follow Alberto Luperon on Twitter (@Alberto Luperon)
Have a tip we should know? [email protected]