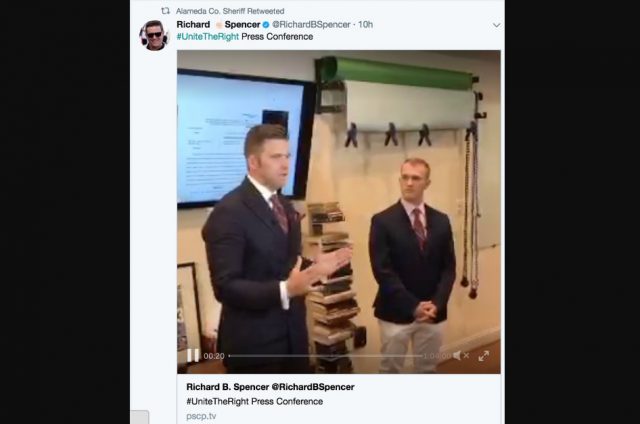 The Alameda County Sheriff's Office found itself in the hot waters of virality on Monday evening after their official Twitter account retweeted a link to a press conference being held by noted white nationalist Richard Spencer.
Spencer, who is mostly famous for being punched in the face by multiple anti-fascists, held the press conference with fellow white nationalist Nathan Damigo. Damigo is also largely known for punching a female anti-fascist in the face at a rally earlier this year. Both Spencer and Damigo attended the white power rallies in Charlottesville over the weekend.
With tensions still high from the violence in Charlottesville and the nation reeling as it struggles to take stock of race relations, retweeting Richard Spencer's press conference was almost certain to draw any law enforcement agency into the epicenter of the discourse. And that's more or less what happened.
Twitter users immediately pounced on the retweet, taking screenshots and archiving the retweet for posterity while retweeting and quote-tweeting the Sheriff's Office, making the cringe-worthy image–of a police department retweeting white nationalists–an almost instantaneous viral sensation for obvious reasons.
The Alameda County Sheriff's Office, for their part, claimed the retweet was purely accidental and eventually deleted it after an hour or so.
We are working to take this accidental retweet down. It is not showing up in our feed for is is to delete.

— Alameda Co. Sheriff (@ACSOSheriffs) August 15, 2017
A report by Brian Krans in the East Bay Express struggled to come to terms with why the link was originally retweeted and then stayed up for so long. According to that report, the officer who runs the Twitter account (@ACSOSheriffs) chalked it up to a technology deficiency. Sergeant Ray Kelly said:
"You'll have to understand that I was following a news link and it led to that press conference. I was trying to close out the screen and I somehow hit the retweet button at the bottom of the page. It was accidental and I hope you understand that. It has been removed and I am much embarrassed. I'm not a social media guru by any means."
Guru or not, Twitter wasn't buying it. Many users were outright incredulous at the official explanation–saying the offending retweet only came down after it drew unwanted attention. Other users noted the @ACSOSheriffs account also follows known white supremacist Kyle Chapman who goes by the name "Based Stickman". (Chapman is lauded in white nationalist circles for hitting an anti-fascist with a stick.) Many users said the most likely explanation was that Kelly forgot to log in to his personal account before he hit the retweet button–effectively accusing him of harboring fascist sympathies.
LawNewz contacted Sergeant Kelly directly. Kelly was adamant about the accidental nature of the retweet and said that he has no personal social media accounts while imploring others to look into him if they felt so inclined. He said:
"It was important to know who Richard Spencer was. It's my job to track hate speech and know what's being said out there. It's been explained ad nauseum how it was retweeted by accident via the Periscope app. All eyes are on Berkeley in the coming weeks. It's my job to know that stuff and to research these people. If this accidental retweet brings attention to the hatred that's out there then maybe that's a good thing. We will be monitoring and we will be ready for the events in Berkeley."
As to lingering questions about whether the Alameda County Sheriff's Office can be trusted, Kelly said, "There's no white nationalist support in this organization. I can guarantee you of that."
[image via screengrab]
Follow Colin Kalmbacher on Twitter: @colinkalmbacher
Have a tip we should know? [email protected]