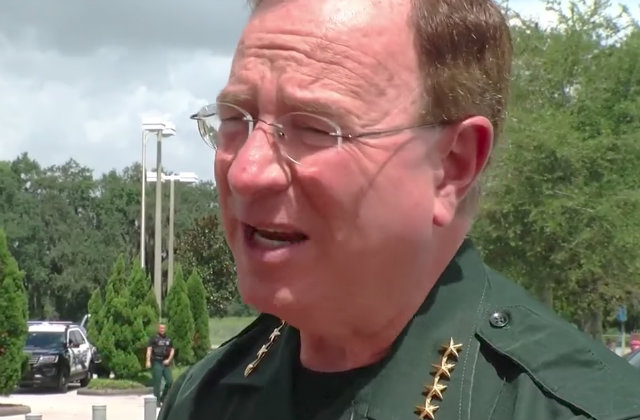 Polk County Sheriff Grady Judd was sued Sunday by someone who allegedly faced a background check to access a hurricane shelter. This comes after the Florida law man's controversial tweets on Wednesday. He said that registered sex offenders would not be allowed, and also threatened to arrest anyone with an arrest warrant.
If you go to a shelter for #Irma and you have a warrant, we'll gladly escort you to the safe and secure shelter called the Polk County Jail https://t.co/Qj5GX9XQBi

— Polk County Sheriff (@PolkCoSheriff) September 6, 2017
According to the complaint, Andres Borreno tried to access an emergency shelter Saturday ahead of Hurricane Irma, but officials said he had to undergo a background check first. The officer never told him if he was suspected of any crime, the complaint said.
"Criminal suspicion is not raised by trying to enter an emergency shelter to save one's life and the life of family members," the complaint says. Borreno is represented by Nexus Services, an immigrant rights group. They don't buy Sheriff Judd's explanation that this is meant to protect kids from sex offenders. From the lawsuit:
Judd's statement that his conduct is aimed toward sexual predators is nothing more than a guise for undertaking unconstitutional searches and seizures. First, the state of Florida requires each person who has been designated a sexual predator/offender who has a driver's license/Identification card to have on that card—in big bold letters—that said person is a sexual predator/offender.
The complaint did not specify if Borreno had an open warrant, nor did it identify the shelter. Polk County itself is the other defendant. Mike Donovan, the Nexus Services CEO, said in a statement that Judd's tweets would scare people off from seeking shelter, endangering their lives.
The Orlando Sentinel first reported the lawsuit on Sunday. They spoke to Judd, who did not take the complaint seriously.
"They filed that lawsuit for free press and it's obviously frivolous," he said. "I have a nationwide profile and they see it as an opportunity for nationwide press."
Judd said Borreno wasn't treated any differently than anyone else–the plaintiff was offered shelter at the jail. He said he didn't know if Borreno actually stayed at the shelter. Judd claimed that 43 sex offenders were sheltered at an area of the Polk County jail that was not behind bars. They were not put in custody, he said.
[Screengrab via ABC Action News]
Have a tip we should know? [email protected]