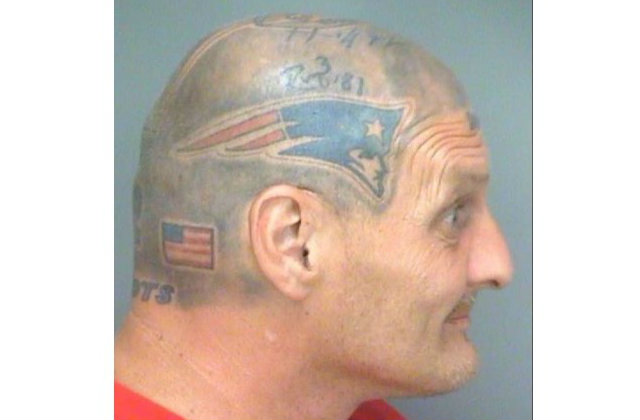 A football fan wanted on four drug-related charges seems to have been dead for quite a while.
The Smoking Gun reported on Wednesday that Florida authorities seek local resident and Massachusetts native Victor Thompson, 48, on four warrants for allegedly selling and using narcotics, and no-showing a court date, but his whereabouts were unknown. This manhunt might already be over, however. He might be dead, as one SG commenter and Fox 4 later pointed out.
From Thompson's June 27 obituary in the Laconia Daily Sun:
Victor "Helmet Head" Thompson, 47, of Gilford Avenue died of a sudden illness on Wednesday, June 15, 2016, at Lakes Region General Hospital.
The outlet said he lived in Laconia, Masschusetts for twenty years. He was survived by family members including his father, wife, his children, and grandchildren.
"Helmet head" is an obvious reference to his skull tattoo of the New England Patriots football helmet, including Tom Brady's jersey number. He went as far as to get the logo of manufacture Riddell tattooed on his forehead. That's dedication!
We reached out to the Pinellas County Sheriff's Office in Florida. who seek Thompson on the warrants. They were unable to confirm his death as of late Tuesday. If arrested, this Patriots fan would've been locked up on $13,000 bail.
[mugshot via Pinellas County]
Have a tip we should know? [email protected]