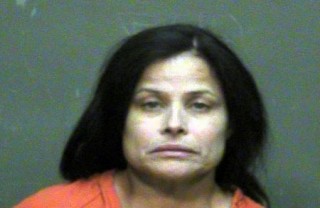 An Oklahoma woman thought her daughter was possessed by the devil, so she allegedly used a religious item to kill her, court records say. Police said that Juanita Gomez admitted to shoving a crucifix down the throat of her 33-year-old daughter Geneva.
An affidavit said that Geneva was found at home, with a cross on her chest, with her body positioned like a cross. Police reportedly found her when they went to Juanita's home on a welfare call.
According to court documents, Juanita Gomez was charged with first-degree murder. She is being held in jail without bond.
[Image via Oklahoma County Sheriff's Office]
Have a tip we should know? [email protected]