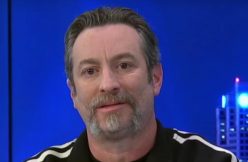 A Ku Klux Klan leader's death has caught the attention of police and sheriff deputies, but answers are still forthcoming. 51-year-old Missouri resident Frank Ancona went missing for several days before being found by a riverbank on Saturday, the Daily Journal reports.
"We processed the scene and the body was transported by the Washington County Coroner's office for an autopsy to determine a cause of death," said Washington County Sheriff Zach Jacobsen. "The body was positively identified as Frank Ancona and his family was notified."
That autopsy has been scheduled for Sunday. He said no one has been charged in his death, but that could change.
Leadwood Police Chief William Dickey said Ancona was last seen by his wife Malissa Ancona. She said he got a call from his workplace, and was going to drive across Missouri to deliver a part. However, his employer said they didn't send him on a job like that.
Police also questioned her on a recent Facebook post she made about getting a roommate. She reportedly said her husband was filing for divorce when he returned, so she was looking for help paying the rent. She told investigators Ancona had taken all his firearms from the house, except for a personal sidearm he carried on a daily basis. She gave that to the cops.
Ancona, the Imperialist Wizard of the Traditionalist American Knights of the Ku Klux Klan, went on MSNBC's All In with Chris Hayes in 2014 to defend his group posting controversial fliers in the St. Louis area. Klan members threatened "lethal force" against so-called terrorists among Ferguson protesters. He insisted that it would only be in self-defense.
[Screengrab via MSNBC]
Have a tip we should know? [email protected]