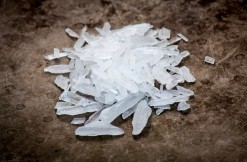 We're not sure what to do with this story: A man called 911 because his mother allegedly yelled at him for finishing their meth stash. This apparently happened, guys. A sheriff's deputy wrote all this down.
The deputy answered a disturbance call Wednesday night at about 9 p.m., according to an incident report obtained by The Smoking Gun. That's when Nicholas Johnson started cursing him out, walking from the front porch. The deputy said he exited his patrol vehicle, and told Johnson to stop cursing.
"Mr. Johnson then did so and advised me that he had called for law enforcement because his mother was mad and yelling at him for smoking all the methamphetamine," the report states. Johnson admitted he took the last of the meth about an hour before the deputy's arrival.
Mom was standing on the porch by now, and Johnson started yelling at her. The deputy arrested him after one more warning to be quiet. There were no drug charges, though. Johnson was only cuffed for a misdemeanor count of disorderly conduct.
[h/t The Smoking Gun]
[image via Shutterstock]
Follow Alberto Luperon on Twitter (@Alberto Luperon)
Have a tip we should know? [email protected]