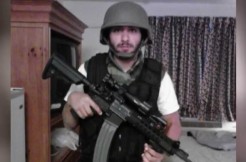 A vicious YouTube post landed a Las Vegas man in jail. Local police said that on July 2, they got a tip from Interpol about the video, KTNV reports. In it, a man in a military flak vest and night vision goggles brandished two rifles. He said the government was trying to take away his First and Second Amendment rights, and he wanted to use his firearms in the way the Founding Fathers meant. Oh, and he wanted to murder, "gays, f—-ts, lesbians, and Satanists," and would start his rampage soon.
Police said this guy is Bryce Cuellar, a proponent of anti-government ideology.
Nothing about the official allegation is charming. Cuellar allegedly attacked his wife an hour after posting the video: He allegedly punched her, jumped on her, choked her, and threatened to kill her. Police said he admitted to making the video, but defended himself by saying he was angry and drunk. He claimed to have no intent to kill.
And if you must know, YouTube administrators have long since taken down the video. An account with Cuellar's name features videos about illuminati, Satanists, and the end times. You know, hard-hitting news.
Cellar, was charged with making terrorist threat. He is being held at the Clark County Detention Center. A court hearing is scheduled for September 1. He had also been arrested for domestic battery.
Generally speaking, the First Amendment does not protect "imminent lawless action," dating back to the 1969 Supreme Court case Brandenburg v. Ohio.
[image via Facebook. Police haven't released his mugshot, but KTNV checked with neighbors, who identified Cuellar as the guy in this picture.]
–
Follow Alberto Luperon on Twitter (@Alberto Luperon)
Have a tip we should know? [email protected]