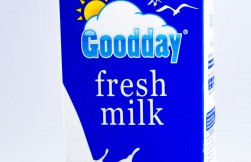 It all started with a PB&J sandwich. A 43-year-old man apparently got into a fight with his wife because there was…no jelly in the cupboard. That's according to the Fruitland Park, Florida police. Apparently he made quite a mess and felt the need to clean up. That's where things got even uglier.
The distraught husband allegedly proceeded to use his wife as a mop to clean the floor. They didn't elaborate on how exactly that happened but the wife apparently told police her husband pushed her to the floor "to use her head to clean up the spilled milk."
The man, who was arrested for domestic battery, is not being named because his wife is  an alleged victim of abuse.
[h/t Daily Commercial, image via shutterstock]
Have a tip we should know? [email protected]
Rachel Stockman - President / On Air Host