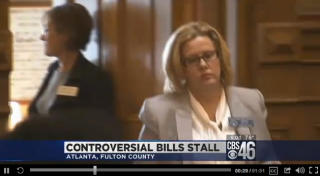 Georgia state Sen. Renee Unterman is making headlines for all the wrong reasons. The 62-year-old Republican blocked a controversial bill passed by the Georgia House of Representatives that would deal with the timely testing of rape kits—the bill won't leave the House.
House Bill 827, or the Pursuing Justice for Rape Victims Act, will not see the light of the Senate floor after Unterman took steps to let the bill die in the house. The bill, which passed with bipartisan support in Georgia's House, would require state law enforcement to account for untested evidence of sexual assault.
As Chair of the Senate Health and Human Services Committee, Unterman allegedly stalled the bill because it had been "overly politicized" by her Democratic colleague state Rep. Scott Holcomb, according to the Atlanta Journal-Constitution. "If there was a problem, I would be Johnny on the spot and I would have written the legislation," Unterman insisted. "I think [Holcomb] really overly politicized it in an election year and I've got a problem with that."
"There was no reason to write a law if it's being resolved. We received a federal grant, a $2 million grant and the issue is being resolved. There's no reason to write a law just because it makes you feel good," Unterman said in response to queries on why she's blocking the bill from making it to the Senate floor.
However, Better Georgia, a progressive advocacy group, noted that the purpose of the bill was to "require police to account for the backlog of untested rape kits." In a statement, the group said,
Let's be clear: this bill would not just address the shocking issue of abandoned and untested rape kits; it would guide the process for rape kit collection and testing moving forward. Law enforcement groups, including the GBI and the Prosecuting Attorneys Council, support this bill. This is a simple, common sense proposal with overwhelming bipartisan support that would solve a big problem and make sure it doesn't happen again. There is no good reason not to support it.
Holcomb cited audits that showed that thousands of rape kits had been ignored for years as his reason for supporting the bill.
[h/t RawStory]
[Screengrab via WGCL]
Have a tip we should know? [email protected]