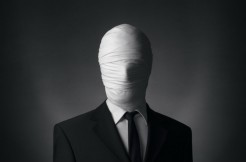 On Friday, a 14-year-old Wisconsin girl accused of attempted murder has changed her plea from not guilty to not guilty by reason of mental disease or defect. She and another teen girl are being charged as adults for the alleged May 2014 attack on a classmate. All three were 12 at the time.
Prosecutors in Waukesha County say the defendants wanted to kill in order to appease a supernatural figure called the "Slender Man." That should sound familiar. This creature, who usually preys on children, was made up in Internet forums no later than 2009. It inspired a horror fad that influenced YouTube and the video game industry with releases like 2013's Slender: The Arrival.
A judge ordered doctors to review the girl's mental health, and to return a report by October 6. She and her conspirator face up to 40 years in prison, and 20 years of extended supervision. Their lawyers are fighting to get them processed as minors, and supervised until they turn 18.
[image via Alex Malikov and Shutterstock]
–
Follow Alberto Luperon on Twitter (@Alberto Luperon)
Have a tip we should know? [email protected]