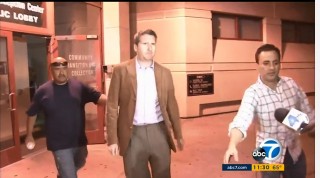 Los Angeles restaurateur Joshua Woodward was sentenced to nine years in California state prison last Friday for attempting to cause a miscarriage of his pregnant girlfriend.
Woodward was originally charged with four counts of attempted murder of a fetus carried by his now-former girlfriend, Gail Greaves. On November 13, 2015, he pled no contest to one count of attempted murder.
Greaves got pregnant in 2009. After Woodward's unsuccessful pleas that she terminate the pregnancy, he tried to do it himself. An investigation revealed that Woodward had made computer searches, such as: what men have done to end pregnancies; evil ways to terminate a pregnancy; drugs that induce miscarriages; misoprostol insertion; and how to insert pills vaginally.
Between September and October 2009, Woodward made four attempts to cause Greaves to miscarry. He allegedly put drugs in her food and drink. Eventually he inserted the drug misoprostol which induces a miscarriage. Greaves did, indeed, suffer a miscarriage during this time— when the fetus was 13 weeks old.  She was suspicious of Woodward and reported him to the police. During Woodward's fourth attempt, the police were watching and investigating. They caught Woodward disposing of the substance in a baggie. Unbeknownst to Woodward, Greaves had already miscarried which is why the charge he pled to is attempted murder.
At last Friday's sentencing, Greaves gave an emotional victim-impact statement: "I couldn't understand why you were so driven for me to have an abortion. I told you I didn't need your help and you didn't have to be a part of raising the baby." She went on: "Little did I know you drugged me with misoprostol, which makes you go into labor. However, doctors stopped using this drug because if you give a woman too much she could hemorrhage and bleed to death. But you didn't care, did you?" She went on to describe the pain and cramping she felt one day soon after he left her home. She noticed powder in her underwear.
A no contest plea acknowledges that the prosecution has sufficient evidence to prove the charges but does not include a defendant's admission to the facts. It has the same legal effect as a conviction after trial.
Woodward, a Florida resident, once co-owned the Table 8 restaurants in Los Angeles and South Beach, Florida.
Have a tip we should know? [email protected]