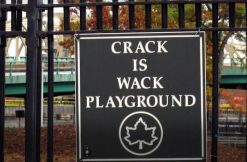 A suspected drug dealer was arrested early Friday morning after he crashed at the Crack Is Wack Playground in New York City, police say.
26-year-old Romulo Chabla led cops on a high-speed chase from the Triborough Bridge into Harlem, a source told The New York Daily News. It started at about 3 a.m. when officers pulled him over for allegedly going 80 mph, but allegedly he sped off again at 100 mph after one cop walked up to his 2015 red Kia.
Pro-tip: Never, ever get into a high-speed chase in Manhattan. There is little space, even in the middle of the night. Police claim Chabla exited the bridge at 125th St, but rear-ended a taxi. The passengers and driver were not injured, though their trunk was smashed in, a police source said.
This did not end the pursuit, though. Chabla allegedly kept going.
"He was driving blindly because of the airbag," the source said. "Cars were just veering off to avoid him."
Finally, Chabla allegedly jumped out of his still moving car, and ran off on foot. That didn't last long. He eventually surrendered after trying to hide a plastic bag under a car, cops say. Investigators allegedly found all sorts of evidence in the bad: $1,200 worth of cash, Oxycontin, Oxycodone, marijuana, cocaine, and yes, crack. Chabla said it was for his "bad back," sources told the NYDN.
Police ended up finding three cell phones on him too.
"This guy's business must be moving because his phone hasn't stopped," a source said.
As for Chabla's Kia, it kept rolling until it crashed into a fence at the Crack Is Wack Playground at 128th Street, cops say. Yes, it's officially named the Crack Is Wack Playground because of the eponymous mural painted by artist Keith Haring in 1986.
Chabla faces counts of drug possession with intent to sell, leaving the scene of an accident, and reckless endangerment.
[Screengrab via YouTube user 'Team BloodPactScouts']
Have a tip we should know? [email protected]