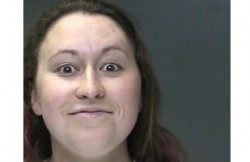 Suffolk County police told LawNewz.com that Casey Evans was arrested on April 2 for stalking the 4-year-old boy she used to babysit. The 29-year-old reportedly worked for the kid's parents from August until she was fired in November.
Her interaction with the family reportedly didn't end then. Police say she tried to sign out the boy from school on March 30, and soon after trespassed at their home to leave him a gift.
She now faces charges of fourth-degree stalking, and second-degree criminal trespass. She was arraigned on April 3.
[Evans mugshot via Suffolk County Police Department]
–
Follow Alberto Luperon on Twitter (@Alberto Luperon)
Have a tip we should know? [email protected]