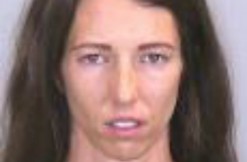 Rachel Natalie Leahy was arrested Thursday after she allegedly hired a "hitman" to kill her ex-husband. Turns out, the Manatee County Sheriff's Office said that was just one of her plans. According to an affidavit, she suggested her ex get kidnapped and made into a sex slave in a foreign country.
Florida investigators learned about Leahy's alleged plans thanks to a tipster. An undercover detective set up several conversations with her, and like any client, she allegedly had several suggestions ready. For example, maybe her ex could die in a rigged car accident. She reportedly conceded that the sex slave idea wasn't realistic.
"She stated that if it was a vehicle accident there could be no guarantee that he died from that," the affidavit, obtained by The Bradenton Herald, stated. "Rachael described that she needs certainty and he must die."
Leahy was cuffed after several separate meetings with the "hitman." Her purported motive? She wanted custody of her children. "She said she wants her kids back and she has played nice for too long." According to the affidavit, she also suggested that maybe he could do another job for her after her ex was snuffed: Someone had money that belonged to her and she wanted it back.
[mugshot via Manatee County Sheriff's Office]
–
Follow Alberto Luperon on Twitter (@Alberto Luperon)
Have a tip we should know? [email protected]