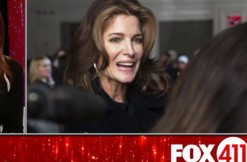 Supermodel Stephanie Seymour, 47, allegedly caused a two-car collision in Greenwich, Connecticut Friday, according to police, who arrested her for a DUI.
Seymour has worked a storied career, posing for Vogue, Sports Illustrated, Playboy, and Victoria's Secret. She's even taken to occasionally acting, with appearances in the film Pollock, and the show Law & Order: Criminal Intent.
But now she faces charges for operating under the influence and unsafe backing. Seymour had been exiting I-95 when she stopped her Land Rover on the off-ramp, according to police. Then for some reason she pulled her car in reverse.
"Upon arrival, I observed a black Land Rover sideways at the top of the ramp and behind it was a white Mercedes," the police report stated. So, yeah, just to be clear, Seymour's car was tipped onto its side, according to cops.
Seymour was allegedly testy. The cop at the scene said she refused "six or seven requests" for her license, registration, and insurance. Finally, she "was able to fumble through her purse, as she handed over her Connecticut driver's license, along with a credit card." Her credit card?
And police say she turned down the sobriety tests. So the question is can you do this? Can you tell the cops 'no'? Absolutely, yes.
"In Connecticut, the field sobriety tests are absolutely voluntary," DUI Attorney Jay Ruane, President Elect of the Connecticut Criminal Defense Lawyers Association, told LawNewz.com. "There can be no negative consequences to refusing those tests." He even recommended defendants turn down the tests. "Of course, in reality, if you refuse them, they are going to arrest you."
Ruane pointed out that there is no law forcing the accused to do a sobriety test. But — and here's the important part – after you are arrested if you refuse any further testing, prosecutors could use that against you.  The reports do not indicate whether Seymour under went a blood test after she was arrested.
The supermodel was released on $500 bond. She faces a Feb. 2 hearing at Stamford Superior Court.
[h/t E! News, image via screengrab]
–
>> Follow Alberto Luperon on Twitter (@Alberto Luperon)
Have a tip we should know? [email protected]