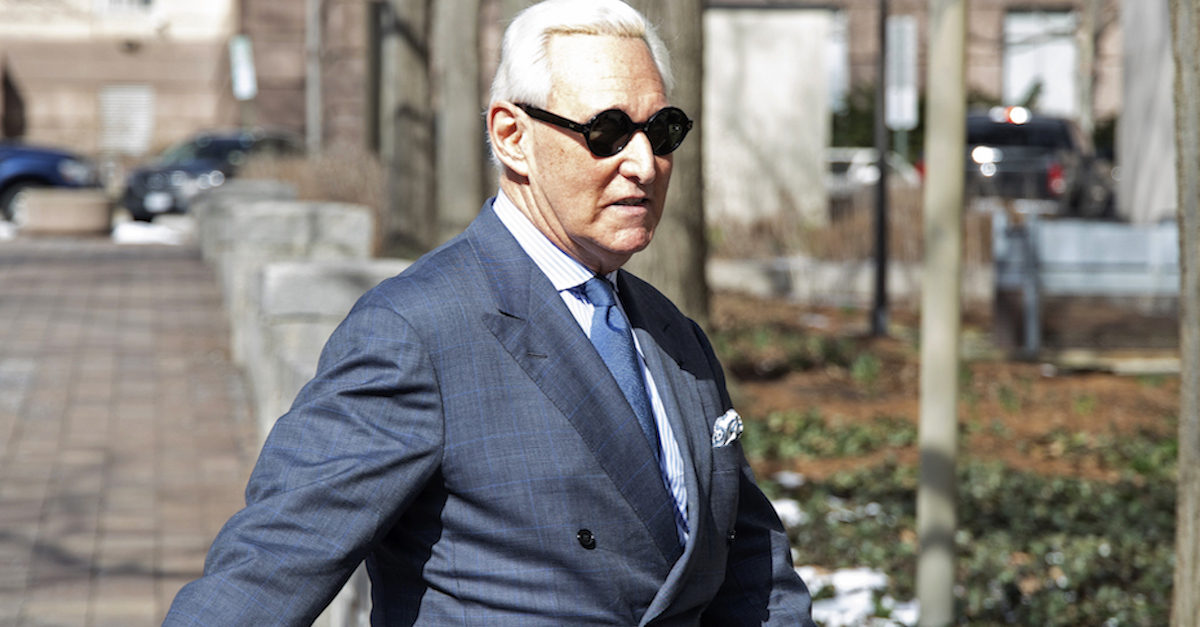 Roger Stone continues to do interviews, fully aware of the judge's gag order in his case. Stone is still allowed to proclaim his innocence and talk about things that aren't related to Robert Mueller's investigation or his case, so Stone is apparently wasting no opportunity to do so.
Stone made the comments Friday on "The Joe Piscopo Show," on radio station AM 970 "The Answer."
Stone acknowledged the gag order and said, "But I'm free to talk about the presidential campaign, weather, baseball, Michael's of Brooklyn — which I gotta tell you has the best jarred sauce that I allow in my home."
Stone can't talk about the Mueller investigation, so he talked about the House Judiciary Committee's request for him to provide documents in its investigation of President Donald Trump.
Stone said that it was a "fishing expedition," something he has often said of the Mueller probe.
"Trump is guilty, he says, and now we just need to find the evidence. I call this a fishing expedition," Stone said on the show, according to the New York Post. "I don't think [committee chairman Jerrold] Nadler has any evidence of Russian collusion or conspiracy or treason."
Stone said that he is exercising his Fifth Amendment right and has "no intention of going before this committee or supplying any documents whatsoever."
Rick Gates was another person who responded to the House Judiciary Committee's request. Eighty-one people or entities have been contacted to provide documents related to "alleged obstruction of justice, public corruption, and other abuses of power by President Trump, his associates, and members of his Administration." Gates also declined, but unlike Stone cited cooperation with ongoing investigations. Former White House communications director Hope Hicks, on the other hand, will cooperate with congressional investigators and turn over Trump-related documents.
Stone notably did not answer when questioned about Trump's past remarks that "the mob takes the Fifth" and "If you're innocent, why are you taking the Fifth Amendment?"
Stone also said that he fully intends to fight Mueller in court and won't be cutting a plea deal. Stone faces one count of obstruction of an official proceeding, five counts of making false statements, and one count of witness tampering. The trial date has been set for November 5.
Editor's note: this story was updated after publication to clarify the show and radio station on which the Stone interview took place.
[Image via Alex Wroblewski/Getty Images]
Have a tip we should know? [email protected]