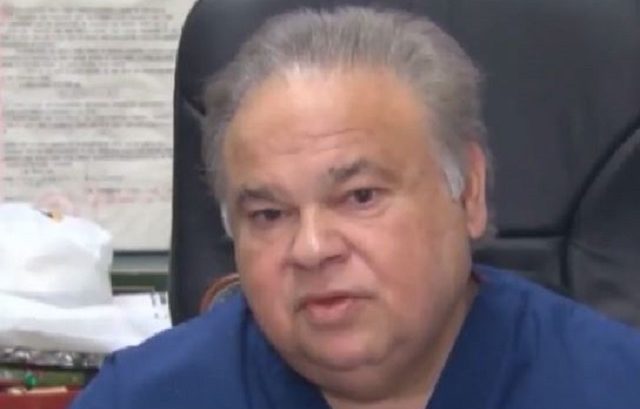 Dr. Salomon Melgen was convicted on Friday for wrongfully billing the government more than $100 million in improper Medicare payments, the Palm Beach Post reported. A West Palm Beach, Florida jury found Melgen guilty of 67 counts of Medicare fraud after a trial that lasted about two months, followed by three days of deliberations.
Prosecutors said that Melgen, an eye doctor, intentionally misdiagnosed patients in order to charge high prices to Medicare. Defense attorney Kirk Ogrosky said about the outcome, "We're terribly disappointed. He cares very deeply about his patients and he tried very hard to help them." Melgen's other attorney, Matthew Menchel, told the jury during closing arguments that while Melgen did make mistakes over the course of his practice, he was not guilty of any crimes.
A sentencing hearing is set for July 14, and Dr. Melgen faces between 15 and 20 years in prison.
Dr. Melgen is also considered a major player in the corruption case of Senator Robert Menendez, which is scheduled to go to trial this fall.
Sen. Menendez, a Democrat from New Jersey, is facing allegations of bribery and corruption. He is accused of receiving hundreds of thousands of dollars from Melgen in exchange for Menendez using his position to provide favors to the doctor. Menendez denies the allegations. Melgen is also facing trial for those allegations, and Friday's conviction should not effect that, the Post reported.
[Image via WPTV screengrab]
Have a tip we should know? [email protected]