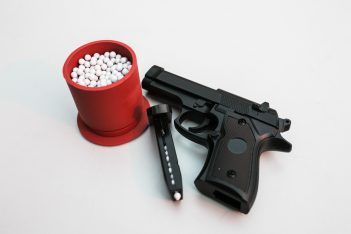 A Baltimore police detective shot and wounded 14-year-old Dedric Colvin earlier this year during a foot chase.  Police say they gave chase and ultimately fired shots after seeing Colvin carrying a weapon that appeared to be a semi-automatic pistol.  After the shooting, however, officers discovered the weapon was actually a BB pistol modeled after a popular type of semi-automatic handgun.  Authorities ruled the shooting was justified and no charges were filed against the officer.
If the aftermath of the incident, the Baltimore City Council decided that it wanted to do more to prevent another similar incident from happening.
How do they plan to achieve their goal?
By passing a citywide ban on the possession of toy or replica guns that appear similar to real handguns and rifles.
According to the Baltimore Sun, City Councilman James B. Kraft proposed the legislation because he believes the "easiest way to resolve this is to get the replica guns off the streets."
Kraft added, "The fewer guns we have on the streets, real or replica, the safer it is."
The toy gun ban proposal also has the support of the powerful City Council President Bernard C. "Jack" Young.
In an interview with the newspaper, Young told the reporter:
"It's something that we should do for the safety of our children.  We're getting stores robbed with replicas. We've got people running around with these things and they almost look real. … I don't think we should be allowing replica guns in the city of Baltimore, especially with the murder rate we have."
The new toy gun ban would prohibit owning, carrying or otherwise possessing a replica gun that could "reasonably be perceived to be a real firearm."  It imposes a $500 fine for the first offense and a $1,000 fine for subsequent offenses.
The proposal is already getting the attention of gun-rights advocates, including one who told the newspaper the legislation "create[s] a whole new class of criminals in the City of Baltimore for the mere home possession by entire families of otherwise perfectly legal toys!"
The final vote on the bill will take place in December, but the report states it is expected to pass easily.  It is also supported by Baltimore Mayor Stephanie Rawlings-Blake.
[image via Patagape/shutterstock]
Have a tip we should know? [email protected]