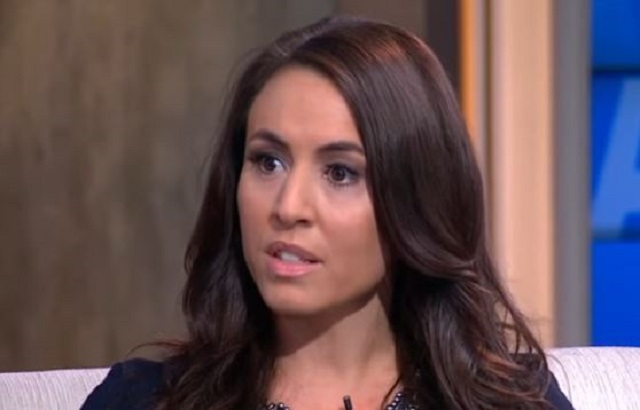 Former Fox News host Andrea Tantaros is in need of legal counsel yet again, but this time she'll be plugging that deficit on her own–by representing herself pro se.
(Pro se is Latin for "on behalf of themselves" and is the common term for when a party in a legal proceeding–civil or criminal–decides they don't want an attorney and will represent themselves.)
Tantaros has now gone through three distinct sets of legal counsel in the long-and-winding case against her former employer and a social media maven. She is suing Fox News, social media "pioneer" Peter Snyder and the estate of Roger Ailes over allegations of sexual harassment, unauthorized surveillance and online "sock puppet" harassment. The defendants have rubbished Tantaros' claims as a "hoax" meant to gin up publicity for her literary ambitions.
When Tantaros initially filed the lawsuit against Fox News and Snyder in April 2017, the former Outnumbered and The Five co-host was represented by Judd Burstein, one of the nation's top litigators who runs a boutique law firm out of Manhattan.
Burstein left the case in September of last year, citing "an irretrievable breakdown in the attorney-client relationship," but continued to profess his support for his ex-client's case. Burstein wrote, "I continue to strongly believe in the merits of Ms. Tantaros' claims."
So, strike number one for Tantaros–and though perhaps this metaphor isn't quite apt under the circumstances; going pro se in a case like this is a very dangerous and sketchy proposition.
Christopher Parlo, with global law firm Morgan, Lewis & Bockius, picked up the slack soon after Burstein's departure. (Note: Parlo was preceded as attorney of record by another Morgan Lewis attorney, Martha Stolley, but the two are being counted as one here because Stolley and Parlo's representation of Tantaros was mostly simultaneous and toward the exact same end.)
Parlo's time on the job was a little over two months and included some epic courtroom showdowns with attorneys for Fox and Snyder–whom Parlo accused of sanctions shenanigans the likes of which he'd never seen before.
In a letter to U.S. District Judge George Daniels penned shortly after accepting Tantaros as a client, Parlo wrote, "Respectfully, in my nearly 30 years of practice I have never seen a group of lawyers so quick to threaten sanctions against other members of the bar or who would try to use our response to such threats to seek an advantage with this court in other pending motions (and all without giving the court the full background and context)."
The headache with Tantaros' case was apparently too much for Parlo and his firm, however, as Tantaros herself noted in a Monday letter to Judge Daniels:
[Parlo is leaving] for the simple fact that some stories can only be properly articulated and accurately explained by the ones who have walked in the shoes that have led them down a particularly challenging road. At times, even the finest lawyers in America cannot contextualize exactly what this company has done to so many people, and exactly what has transpired behind the curtain at Fox News.
In a letter provided to Daniels on Monday as well, Parlo kept mum about the exact terms of and reasons for his and his firm's sayonara, but did note, "Our firm is not the author of and is not counsel on the proposed Amended Complaint or its attachments. We will, however, assist Ms. Tantaros in her transition to pro se status."
(Read the latest amended complaint–Tantaros' first as a pro se litigant–here.)
So, that's strike two on the counsel front. And, let's take care of strike three as well.
Prior to Parlo's departure, Tantaros hired-and-burned-through another New York City attorney-at-law, Tor Ekeland. Ekeland is one of the premier technology and computer law attorneys in the country. He lasted for a good two weeks starting January 16–but promised to file a notice of withdrawal sometime today–and will leave declining to say exactly why. Strike three it is.
As Tantaros mounts her attack on Fox News and Snyder, she'll have to go through at least two powerhouse attorneys in their own right, Andrew Levander and Randy Mastro. They're the lead counsel for Fox News and Snyder respectively. But they'll also have back-up in the form of lawyer Marion Bachrach–as well as attorneys working underneath all three men.
As for Tantaros' legal credentials? They're non-existent. She majored in French and journalism at Lehigh University.
[image via screengrab/ABC]
Follow Colin Kalmbacher on Twitter: @colinkalmbacher
Have a tip we should know? [email protected]